It's 24 June, 1314! And time to take your sides in the decisive battle in the Wars of Scottish Independence.
Stirling Castle, commanded by Phillip Mowbray, was of great strategic importance and had been beseiged by Edward Bruce, brother of the Scottish king. They reached an agreement. The castle would be surrendered if no relief was forthcoming by midsummer, 1314. The attempt by Edward ll's army to do so failed and one of the most famous Scottish victories in the Wars of Scottish Independence ensued.
Our skillfully hand decorated
battle chess set
features many of the historic characters from the famous Battle of Bannockburn. The pieces are amazingly detailed.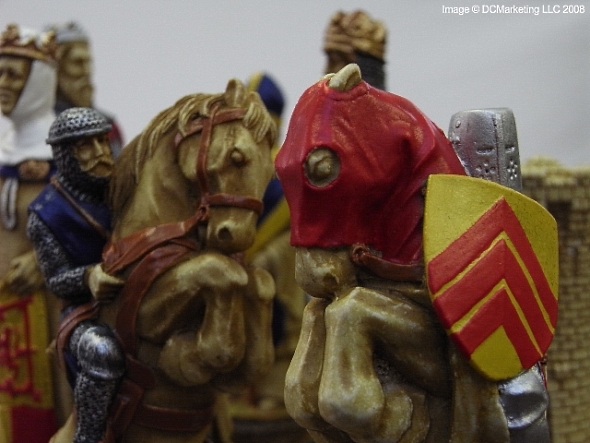 The English are represented by Edward ll who reigned from 1284 until 1327 when he was deposed, imprisoned and horrifically killed at the behest of his wife, the Queen of England, Isabella of France.
The rook on both sides is the Tower of Old Stirling castle which overlooked the battle from it's site on top of an old volcanic rock.
See in our image below how the bricks of the wall of the rook (or castle) actually get smaller as they reach the top.
This is authentic for the construction of the time - an amazing aspect of detail which really brings out the quality of the piece.
The Scots side is led by Robert the Bruce, or King Robert l who was famously heartened by the tenacious spider to persist in his struggle against the English. He is accompanied by his Queen Elizabeth de Burgh who was reunited with King Robert after being captured eight years earlier.